ABOUT OUR BUSINESS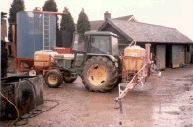 At the end of the 1980s this front and rear tank combination was replaced by a self propelled sprayer now covering over 15000 acres per year.
In the early 1970s, Ray Lane with the help of his wife Christine, started contracting in Bedfordshire and surrounding counties.
Through the 70s and 80s the business grew offering more services including combining, round baling, self-propelled spraying, muck spreading, cultivations plus many other operations.
During the late 90s Richard and Robert (Ray and Christine's sons) joined the business after completing college courses in agricultural engineering and arable mechanisation.
All of the machines are kept up to date to minimise breakdown time and repair costs. Nearly all of the used kit is sold by the business instead of part exchanging.
With this in mind the business has expanded into the used machinery market.