OUR SERVICES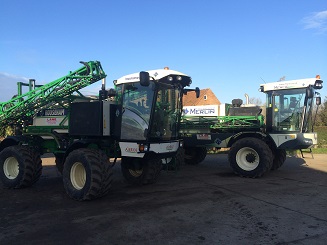 Crop Spraying
Spraying is undertaken using 2 self propelled Househam sprayers AR 3500 and Merlin 4000.
Having 2 sprayers maximises timing and minimises wash outs.
A water bowser can be provided if needed for larger jobs.

Both sprayers are equipped with 24metre booms and high clearance for taller crops eg. Desication of Rape.
For low ground pressure work we use a set of Trelleborg 680 tyres on the AR 3500 and Michelin 600 Xeobibs on the Merlin which both travel well even in wet conditions.
Both machines are equiped with gps auto shut off to minimise overlaps.
The AR 3500 is also equipped with Auto steer for use when tram lines are not used eg. Grassland jobs or Roundup on cultivated stubbles.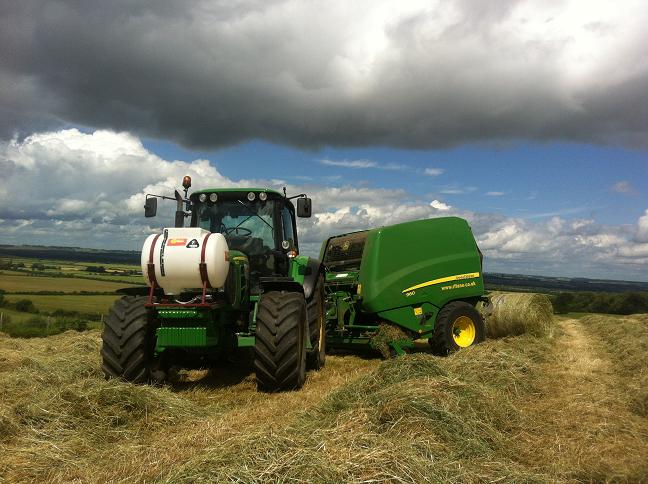 Baling and Wrapping
We are able to offer the following baling services.
Round baling up to 5 feet in height
Square baling 120cm x 70cm or new in 2013 80cm x 70cm
Silage and haylage can be baled either with the square balers or the round baler, both balers offer choppers too.
These bales are wrapped by our Kuhn or Mchale wrappers using 750mm film.
When in straw crops we usually run two John Deere round balers together to get the job done quickly.
We use a NewHolland BB1270 to do our 120 x 70 baling and a NewHolland BB870 to do our 80 x 70 baling. Both machines produce a tight uniform bale in every crop.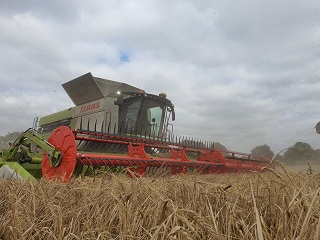 Combining
Combining is performed by our 2 Claas Lexions 770 and 760 Terra Trac both with a 10.5 metre vario header.
The crops can be carted by the customer or by ourselves using 50kph tractors and high speed Bailey Trailers.
If needed a teleporter can be supplied to push the crop up in the store.
Ploughing and Cultivations
Most of the heavy cultivations and ploughing is done by a John Deere 8370RT and John Deere 7230R.
We run a Kverneland 7 furrow fully mounted plough on the 8345RT and a Kverneland 6 furrow on the John Deere 7230R
We also have various cultivation equipment including Horsch Terrano,Rexius Twin Press, subsoilers etc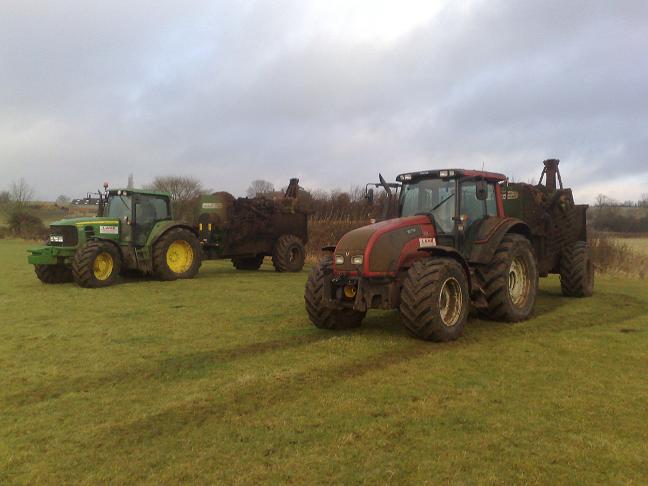 Muck and Slurry Spreading
2 Keenan Orbital 12T spreaders are used for spreading all types of muck.
A Herbst 2000 gallon tanker is used for spreading slurry.
The muck spreader is loaded with a JCB 541-70 pro Lodall using either muck grab or large bucket depending on the job. The spreader has large flotation tyres to minimise soil damage.
The tanker uses a fast vacuum pump and is also equipped with large wheels to minimise soil damage.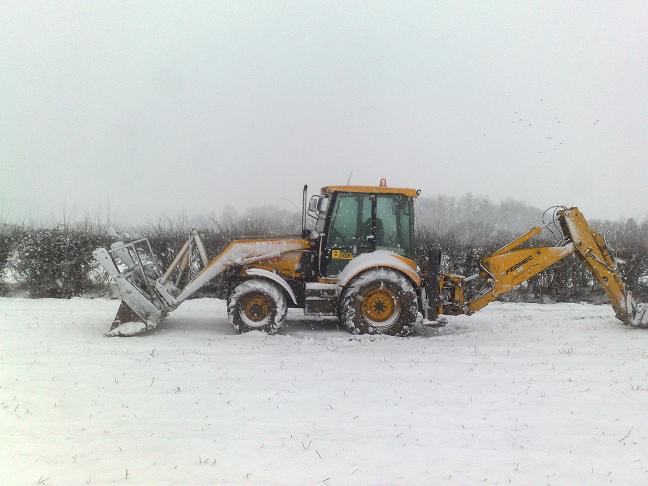 JCB Lodall and 180 Digger Hire
A JCB 541-70 pro is available for muck loading, lorry loading, access platform etc.
A Fermec 860 is available for ditching, site clearing, levelling, digging footings and general digger work.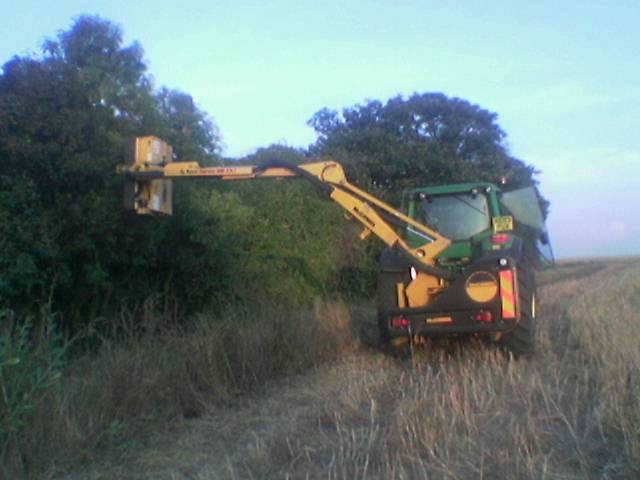 Hedge Cutting
A McConnell 6500 T is used behind a John Deere 6125R with autopower.
The hedge cutter has a 6.5m reach and a 1.2m width head. The tractor is equipped with autopower (vario) so the hedge cutter can be used at optimum speed.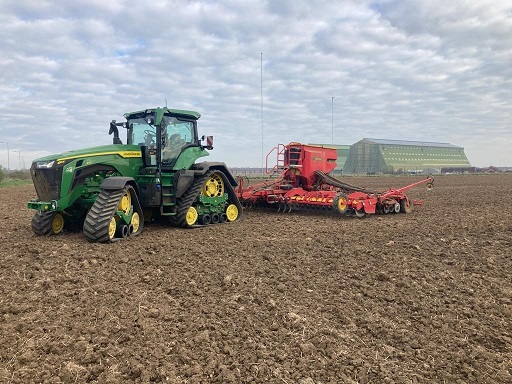 Seed Drilling
Most of the drilling is performed by the 8m Vaderstadt Rapid but we also have a Kverneland 4m TS drill which is used with a front mounted Lynx stream-line cultivator.We now also have the option for direct drilling with a 6m John Deere 750A.
The Vaderstadt is pulled with the John Deere 8370RT and is equipped with System Aggressive Disc which is ideal for use in trashy conditions and direct drilling rape. We can also drill maize with double rows at 30" centres.Slug pellets can be applied with 750A via a stocks applicator.The TS drill and 750A are powered by a JD 6155R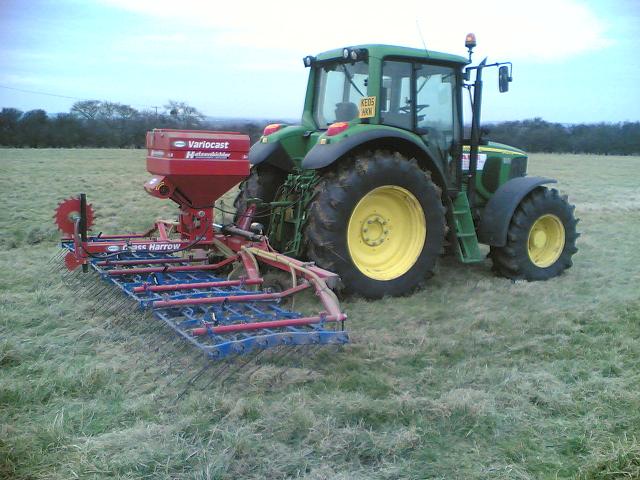 Grass Seeding and Harrowing
Grass seeding and over seeding is carried out by our Opico Harrow and seeder unit.
The harrow is 6 meters wide and can be used for harrowing, seeding and over seeding. Over seeding is where you spread grass seed into an existing pasture while harrowing, this helps bring life back into old pasture without the expense of a complete reseed.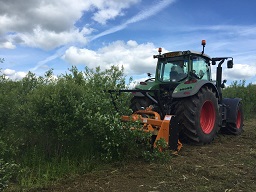 Flailing and Mulching
For grass flailing and brambles etc. we use front or back mounted Muthing Flails.
We can also offer a mulching service up to 10inces. This machine is ideal for taking out hedgerows and clearing overgrown areas.
Gator services including avadex spreading
We use the Gator for a variety of applications.Paddock and landscape spraying with 6m boom.Slug pelleting with stocks twin hopper spreader.The gator is also used to pull a trailed 12m spreader which is used for spreading avadex or grass.